Meet the XV20i: Trane's Top-Performing Air Conditioner
Check out the special features that make the Trane XV20i one-of-a-kind.
Curious about what goes into our top-of-the-line unit? It's more than just coils and controls. Check out the attention to detail Trane puts into every XV20i TruComfort™ Variable Speed unit we build.
Take a Look Inside the XV20i — Our Top-Performing Unit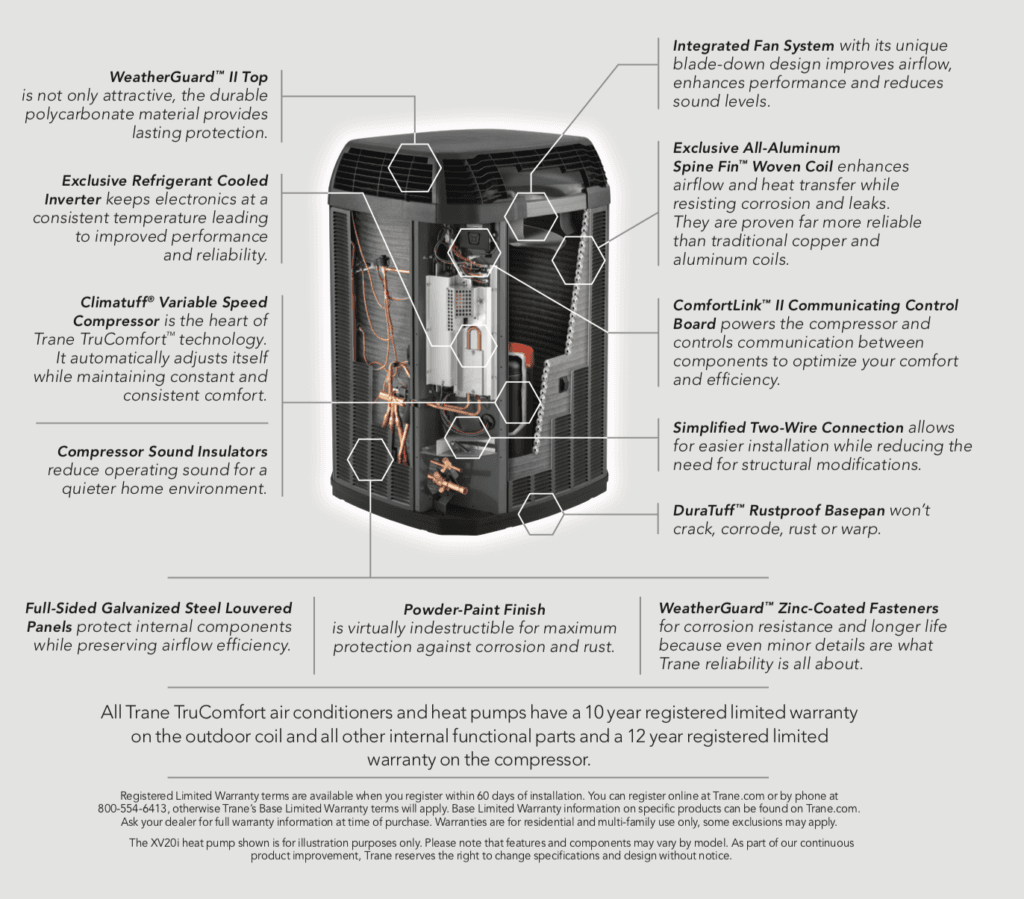 What Those TruComfort™ Features Really Mean for You
Our specialty components work together as a team to keep you and your home cool all summer long — no matter how hot it gets outside. From the thermostat to the compressor, each element of a Trane air conditioner is crafted with your comfort in mind, so you get the benefit of:
No More Temperature Swings

Less Noise

Lower Utility Bills

Wireless Communications

Longer Lasting Equipment
Now, let's break down the benefits.
No More Temperature Swings
Variable speed isn't new technology for Trane. We created it, then perfected it. Trane was the first in the industry to apply variable speed technology to residential air conditioning and we've taken it the next level with our Climatuff™ Variable Speed Compressor.
The Climatuff™ compressor knows exactly when to vary the operating speed as the outdoor temperature changes. It makes adjustments in as little as 1/10 of 1% increments to maintain within 1/2° of the thermostat setting. That kind of precision guarantees that it's never too hot or too cold in your home. Your system glides along on cruise control, barely sipping electricity.
Less Noise
The XV20i is quieter than most air conditioners — thanks to an integrated fan system that runs 4 decibels below our competitor's minimum. The Compressor Sound Insulators also cut down on operating noise, so can feel the power of your unit without hearing it.
Lower Utility Bills
The higher the system SEER rating, the more comfort you'll get from each energy dollar you spend. The XV20i has a 22-SEER rating, making it one of the industry's most efficient systems to help you reduce energy costs and usage. Upgrading to the XV20i is a great way to go green.
Wireless Communications
ComfortLink™ II Wireless Communicating Technology connects your XV20i system components so they sync up for optimal performance and efficiency. Your system can optimize humidity and temperature in your home, as well as adjust compressor and fan speeds in real time to give you the most comfortable air operating efficiency possible.
Longer Lasting Equipment
Reliability and durability is a given with every Trane system. Our products are rigorously tortured and tested, so they'll hold up to anything. To top it off, all Trane TruComfort air conditioners come with a 10 year registered limited warranty on the outdoor coil and all other internal functional parts, plus a 12 year registered limited warranty on the compressor.
Does the XV20i sound like a good fit for your home? Make an appointment with your local Trane Comfort Specialist to get more details and a pricing estimate.