Hot Trane Projects: Edison Battery Factory
Gavazzi Cooling & Heating makes history in West Orange, NJ with the Edison Battery Factory.
When you're restoring a century-old building, it's key that the systems you install will be durable, reliable and unstoppable for decades to come. Fortunately, the city of West Orange, New Jersey didn't have to go far to find the right guys for the job. Greg Gavazzi and his local crew from Gavazzi Cooling and Heating were eager to step up to the challenge and use their Trane HVAC expertise to breathe life into the historic Edison Storage Battery Factory.
The Story
The Edison Storage Battery factory was built in 1913 by Thomas Edison. His hard-working employees produced nickel-iron storage batteries for cars, delivery vehicles, railroad signals, mining equipment and other industrial uses. In its heyday, the factory and surrounding neighborhood at Main Street and Lakeside Avenue was a hotbed of industry. Nearly 10,000 employees worked across dozens of buildings in the complex with approximately 850 of them located in the four battery factory buildings.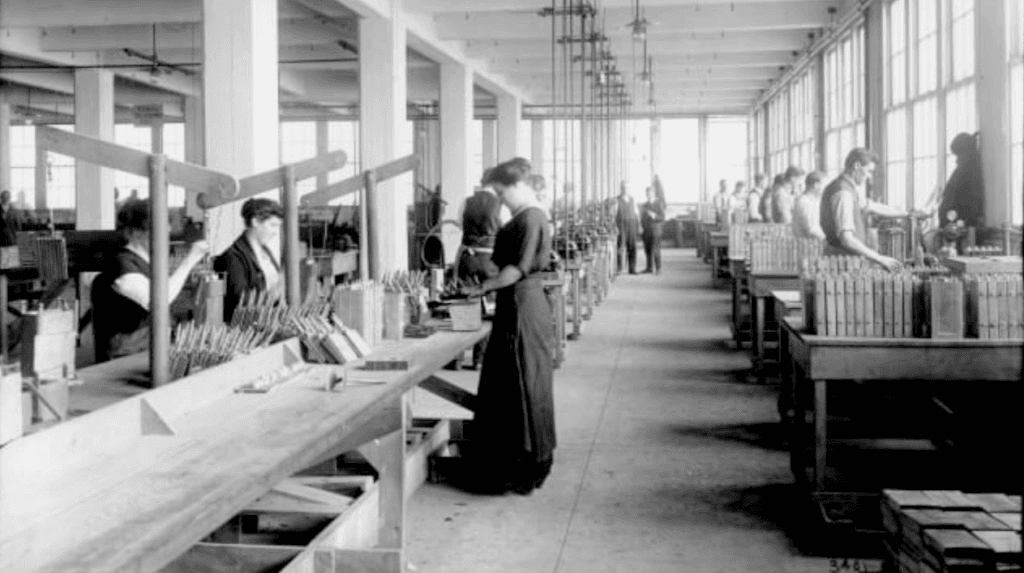 Photo Credit: West Orange Public Library
Unfortunately, the business empire slowly crumbled after Edison's death in 1931 and many of the buildings in the complex became vacant. But decades later, developers with a passion for adaptive reuse saw an opportunity to blend historical preservation and redevelopment to create a new thriving center of activity.
The Setting
Prism Capital Partners committed to a $230 million plan to construct the "Edison Village". Their strategy was to convert the 400,000-square-foot building into 330 apartments, along with 18,500 square feet of retail space and public areas spotlighting exhibits and historic artifacts from Thomas Edison's legacy. The development sits across from Edison's original laboratory, which is now part of the Thomas Edison National Historic Park. In addition to visiting the park, guest can tour his home in nearby Llewellyn Park and learn more about his inventions.
The Battery Factory has a unique warehouse design with 14-to-16-foot ceilings and 10-foot windows. The entire structure, including the roof, was built from dense Edison Cement — which can be challenging to work with during a renovation and retrofit. But no challenge is too daunting for Gavazzi and his team.
The Solution
Greg Gavazzi and his expert team started this 2-year project in 2016 and are proud to be part of this unique hub of West Orange history. Greg's worked in the HVAC industry since 1970 and has seen his share of challenging projects. In recent years, he's expanded his business to include multi-family housing and apartment complexes. This is the fourth project of this size that he's tackled and by far one of the most interesting.
The biggest hurdle the team had to overcome was drilling through massive concrete walls and floors of variable thickness and depth to run refrigeration lines and ductwork. Fortunately, the building was resilient and sturdy — during Edison's era, they used to drive a train through the basement for loading and unloading. Greg said he was "surprised by the magnitude it took to line up the holes for core drilling and retrofitting with the existing concrete columns". Even with a rock solid plan in place from the start, they had to get creative with the concrete. It ultimately cost them roughly $80,000 core drilling costs.
Once they got the groundwork laid, they dug into the next phase. Greg's team partnered with the Wallwork Group to install over 300 heating and cooling units, racking up at least 15,000 hours in labor. But this wasn't just any old installation. The developers were committed to providing their future apartment residents with energy efficient homes that provide supreme comfort. That's one of the reasons they chose to work with Trane cooling and heating products. Gavazzi installed some of their most eco-friendly products — 95% single stage furnaces and 16-SEER air conditioners — to ensure the residents saved money on their energy bills. And because this is a high-end property with open floor plans, they added modern, spiral ductwork to each apartment.
As the project progressed and they learned more about the Edison Battery Factory, every moment on the job became more meaningful to Greg and his team. As an owner-operator who services what he sells, Greg wanted to make sure he delivered the best quality possible, so the developers and future residents will feel confident they can count on him for the long haul. He's proud to have been part of this special project near his home in Riverdale, NJ and his team is happy knowing their new neighbors will be comfortable living the good life at the old Edison Battery Factory.
Learn more about the unstoppable Trane products that our dealers install every day. Whether you live in a renovated factory or you're building a brand new house, talk to your local Trane dealer about how the right system can make your home more energy efficient and comfortable year round.