HVAC Checklist: Buying a New Heating and Cooling System
Buying a new heating and cooling system can be intimidating, but your local dealer is ready to help.
If you're considering upgrading or replacing the existing HVAC (heating, ventilation, and air conditioning) system in your home, there are a lot of factors to consider before making a purchase. Whether you've shopped for an HVAC system in the past or this is your first time, it is crucial to do your research. HVAC systems have evolved greatly over the last several decades, meaning new, more energy-efficient options may be available since your last one was installed. Fortunately, following an HVAC checklist will help you consider all critical components and make the best decision for your budget, preferences, and home layout.
Step 1: Add a replace or repair assessment to your HVAC checklist.
First and foremost, ensure that investing in a new HVAC system is the right choice for you. If your system is fairly new and not working properly, it may be more cost-effective to repair rather than replace it. If you are trying to decide whether to repair or replace a unit, you can use the
Repair or Replace tool
, which considers the system's age and the cost of any outstanding repairs.
Generally, a furnace can last 12 to 18 years with proper maintenance, and an air conditioner can last anywhere from 10 to 16 years. An older unit, however, may run inefficiently and require lots of maintenance, meaning it may be cheaper, in the long run, to update an older furnace with a newer, more efficient model. A local Trane dealer can guide you through this process based on your system's maintenance or repair history, age, and overall efficiency level to complete this step of the HVAC checklist.
Step 2: Identify your needs and research solutions.
Because HVAC is such a specialized industry, most homeowners don't keep up with the latest technologies and developments until it's time to purchase a new heating and cooling system. Once you've worked with a local dealer and determined to replace your old HVAC unit, dive into the basics. Start by considering your biggest concerns within your home. Do you struggle with high humidity levels, experience hot or cold spots, or high utility costs? These concerns will drive your research and guide you in a general direction. For example, those who struggle with high utility costs may discover energy-efficient
heat pumps
, or you may discover you can add a dehumidifier to certain HVAC systems to decrease excessive humidity.
It is also to consider whether you have existing ductwork within your home. Many older homes have ductwork but may have weak spots, holes, loose connections, or excessive buildup that alters the system's efficiency.
Step 3: Discover the specifics as you continue your HVAC checklist.
After learning the basics of new HVAC systems that sound appealing, it's time to dive in deeper. Look into the specifics of the HVAC system type you are considering and determine whether this seems feasible for your needs or location. For example, if you were seeking an energy-efficient heat pump, you might discover that they work best in mild climates. Conversely, a furnace might be better for your home in the northeastern United States. From there, you can explore your options further. You may look further into a gas furnace or a
dual-hybrid model
to be more efficient. This will give you a good idea of your options, but ultimately, other factors will need to be considered for optimal results.
Step 4: Consult a heating and cooling system pro.
Now that you know what to look for in new heating and cooling systems, reach out to a local HVAC installation expert. Here, you can discuss your concerns, your preferences and ask for further recommendations. An expert will thoroughly inspect your home's size, insulation levels, and other concerns. Because they are local to the area, they will also consider the ideal setup for the region's heating and cooling seasons. This includes considerations for energy efficiency. Look at the seasonal energy efficiency ratio (
SEER
) to help decide if you are unsure. While 13-14 SEER is the minimum, anything above 16 is considered high efficiency, depending on your region. After receiving product and installation recommendations, be sure to ask for a price quote.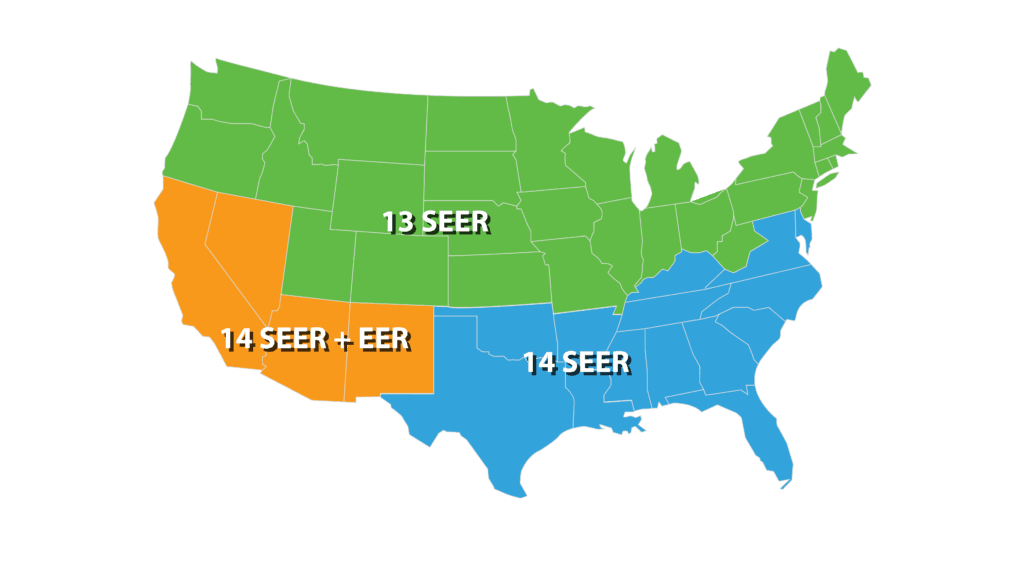 Step 5: Shop around to compare recommendations and prices.
It's important to feel confident in your new HVAC installation. In many cases, homeowners often consult with several dealers to hear their recommendations and receive quotes. This is important as some dealers may be able to offer financing, rebates/warranties, or they may work with different HVAC manufacturers. If you prefer a particular HVAC brand, it is important to inquire beforehand. In doing so, you can look into local dealer recommendations straight from the manufacturer. This ensures they are equipped with the proper training, equipment, and knowledge to assist homeowners in completing a thorough HVAC checklist before buying and installing a new system.
Step 6: Complete your HVAC checklist with a trial run.
Once your system is installed, add a test run to your HVAC checklist. While your HVAC technician performs a trial after installation to ensure everything is working properly, focus on the comfort factor. From there, consider setting your thermostat to an energy-efficient temperature and looking into other ways to decrease your energy usage and utility bills to make the most of your new HVAC system. Be sure to perform regular maintenance, such as
changing air filters
, and connect with your
local dealer
to perform seasonal inspections to maximize the performance and overall lifespan of the unit.