ComfortLink® II XL1050 Thermostat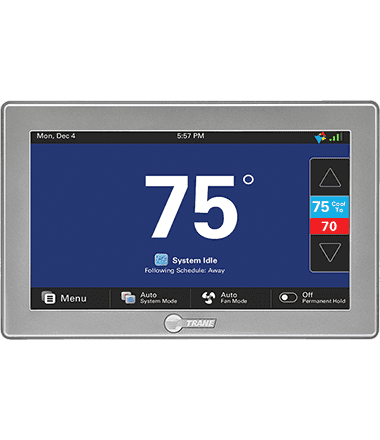 ---
Offers and estimated costs for
Edit Location
---
What's included in the price?
Pricing varies by location and dealer in addition to several other factors.
Technical Specs
Comm/Variable Compatible
Yes
Touchscreen Size
7" with full color
Additional features of the ComfortLink® II XL1050 Thermostat
Easily control your home's HVAC settings with the ComfortLink® II XL1050 thermostat. This smart thermostat utilizes zoning technology and a home automation hub to make sure you are comfortable, no matter the season, by providing real-time adjustments, scheduling, and remote controls. The ComfortLink® II XL1050 thermostat allows you to regulate just the right temperature and humidity levels to meet your unique home comfort needs. You can also get real-time diagnostics with the ComfortLink® II XL1050 thermostat, so that you get not only quality comfort, but also peace of mind.
Already own a Trane?
Warranty & Registration
After getting a new system, be sure to protect it with a warranty.
Owner's Manuals
Learn more about your product, like its technical specs and innovative technology.
Where do you go from here?
Step 1
Research your needs
Consider your home comfort level, climate, ductwork, energy use, and desired monthly heating and cooling costs.
Step 2
Get a dealer quote
Schedule a visit with your dealer for a custom recommendation. Visit our Dealer Locator page for a list of questions to discuss with your dealer.
Step 3
Fix or upgrade your unit
Gather all your information to make a replace or repair decision. Follow up with your dealer and enjoy your new or improved HVAC.