Energy Recovery Ventilator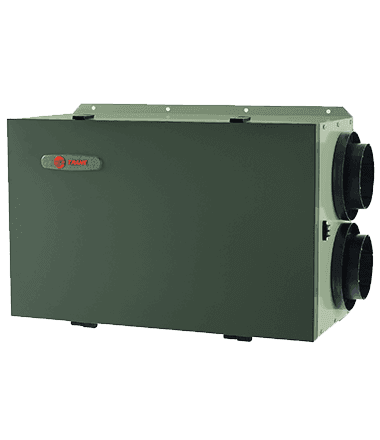 ---
Offers and estimated costs for
Edit Location
---
What's included in the price?
Pricing varies by location and dealer in addition to several other factors.
Technical Specs
Home Size
Up to 4500 sq ft
Additional features of the Energy Recovery Ventilator
Trane knows the importance of good indoor air quality and takes it up a notch with the Energy Recovery Ventilator. The ventilator reduces energy waste by recycling the air that's exhausted from your home and using it to create the energy needed to ventilate the house with dehumidified air. This lowers the energy usage from your HVAC system to help you save money — all while keeping you comfortable throughout the year.
Already own a Trane?
After getting a new system, be sure to protect it with a warranty.
Learn more about your product, like its technical specs and innovative technology.
Where do you go from here?
Step 1
Research your needs
Consider your home comfort level, climate, ductwork, energy use, and desired monthly heating and cooling costs.
Step 2
Get a dealer quote
Schedule a visit with your dealer for a custom recommendation. Visit our Dealer Locator page for a list of questions to discuss with your dealer.
Step 3
Fix or upgrade your unit
Gather all your information to make a replace or repair decision. Follow up with your dealer and enjoy your new or improved HVAC.