Find a dealer in your area
This badge spotlights dealers who are experts in servicing and maintaining Trane's HVAC systems.
Dealer is available for 24/7 emergency service.
A NATE certification is the top accreditation for HVAC technicians. It is awarded by an independent organization.
If you choose to share your system data, this dealer is equipped to remotely troubleshoot potential issues before they become emergencies.
Dealer offers flexible financing options to help manage expenses of owning a system.
Charter members are the original Trane Comfort Specialists. They've been committed to TCS values since the program started in 1998.
Discover Tampa, Florida
Tampa is on the west coast of Florida, near the Gulf of Mexico. In the summer, residents can expect hot days with afternoon thunderstorms. Tropical storms can be a threat to the Tampa area, especially in August. Colder weather can occasionally come through from November to March, with lows in the 40s and 50s. Whether you're in Downtown Tampa or College Hill, residents in Tampa need to be ready for anything when it comes to the weather.
Get Ready for Summers in Tampa
If you constantly need AC repair in Tampa, maybe it's time to shop for a new air conditioner. The Trane XV20i TruComfort™ systems are variable speed, so they can automatically adjust. With a variable speed system, you won't have to worry about temperature fluctuations, you'll get precise comfort all day long. To improve your indoor air quality, consider adding Trane CleanEffects™ Air Cleaner to your HVAC system to filter the incoming air and eliminate allergens and pollutants in your home.
Learn More About Trane Comfort Specialists™
Whether you need routine maintenance, system servicing or emergency assistance, our Trane Comfort Specialists™ are certified experts in their field. They've been through extensive training so they can be the best when it comes to customer satisfaction, service and installation. Call today to schedule an appointment.
What a dealer can do for you
Some dealers go above and beyond to show their expertise. Learn more about what your dealer can do for you when you see any of these badges.

NATE Certified
NATE is a North American Technician Excellence certificate and the highest possible HVAC accreditation done by an independent company. A dealer's knowledge and experience is tested to earn this badge, promising you can save time and money with proper installations.

Trane Comfort Specialist
This badge is Trane's own stamp of approval. It spotlights independent dealers who are experts in servicing and maintaining Trane's HVAC systems. They are committed to customer satisfaction.

Trane Diagnostics
You may choose to share your HVAC system's data with your dealer so they can detect potential problems before they become emergencies. This badge means your dealer can provide contactless support and remotely troubleshoot issues.

Get helpful HVAC tips in our newsletter
Sign up for our email newsletter to learn helpful HVAC tips and tricks before you purchase your system.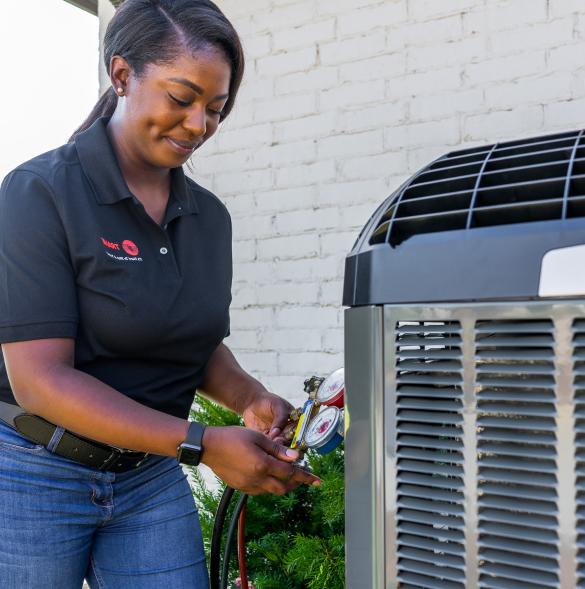 Prepare for your dealer visit
Research your needs. Consider your home comfort level,climate, ductwork, energy use, and desired monthly heating and cooling costs.
Prepare the questions you want to ask your dealer.
What's the best way to heat and cool my home?
What size HVAC system do I need?
Should I repair or replace my system?
How can I reduce my energy usage and costs?
Do you offer any special financing, discounts, or rebates?
What's the warranty on your air conditioners and furnaces?
Do you offer a seasonal maintenance plan?
Is there regular maintenance I should do myself?
Find the dealer best fit for you by comparing their specialties, ratings, and reviews. Seek out potential dealers with our dealer locator or by asking family and friends.
Consider booking appointments with several dealers.Getting different quotes and perspectives from multiple experts can help you discover the best solution for you.
Learn helpful HVAC tips and tricks before you purchase your system.
Learn more about your product, like its technical specs and innovative technology.