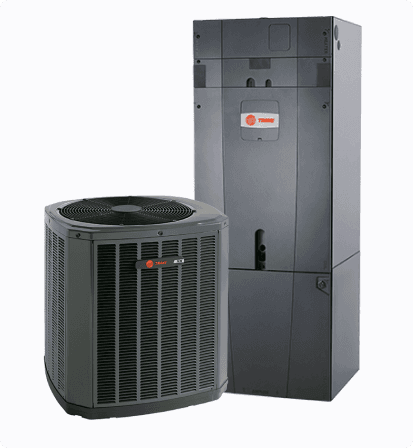 Heat pump + air handler matched systems
A heat pump works together with your air handler to provide both heating and cooling for your home. In heating mode, a heat pump provides heat using only electricity — it doesn't burn fuel to provide heat.
What does a heat pump do?
Unlike a furnace, a heat pump doesn't burn fuel to make heat. It simply uses electricity to move heat from one place to another. A heat pump is an energy efficient way to cool your home in the summer and heat it in the winter.
WHAT DOES AN AIR HANDLER DO?
Air handlers circulate conditioned air throughout your home
Matched in capacity and efficiency rating with the air conditioner, air handlers circulate conditioned air throughout your home. An air handler contains an inside coil and a blower fan, with the additional possibility of an auxiliary electric strip heater. Trane air handlers are available with multi-speed or variable-speed motors. Variable-speed models are known for soft starts, high humidity controls, variable airflow capacity, as well as the enhanced comfort mode, the Comfort-R™ airflow system.
ADD TO YOUR HOME COMFORT SYSTEM
Adding an air cleaner can also help reduce pollen, pet dander, dust, and smoke in your home
An air cleaner is integral part of a home comfort system. An air cleaner can filter dust and pollutants out of the air you breathe, and keeps your rugs and home furnishings cleaner as well. Reduced pollen, dust, pet dander, smoke, etc., could help reduce allergy and asthma discomfort. A Trane CleanEffects® Whole Home Air Cleaner air filtration system can remove up to 99.98%* of airborne particles that pass through the reusable filter.
*Based on third party testing of particle removal efficiency down to 0.3 microns (2005).

Get helpful HVAC tips in our newsletter
Sign up for our email newsletter to learn helpful HVAC tips and tricks before your purchase your system.
Contact a local dealer
Dealers can answer questions, help you find the right products for your home, and repair your system.
We're here to help
Connect with our Customer Care team about your products, warranties, and dealer concerns.
Available Monday – Friday from 7am to 5pm CST
A phone