Ductless systems
Ductless systems, also known as mini split systems, connect an outdoor unit with one or more indoor units to heat and cool specific zones of a home without the use of ductwork.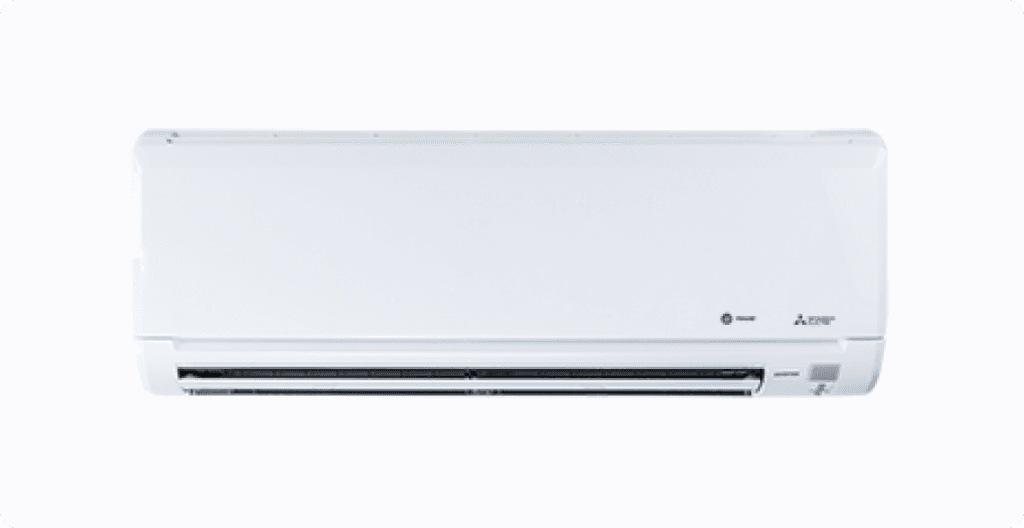 Explore the components of a ductless system
Ductless systems are easy to install, plus they're extremely energy efficient and customizable to your home. An outdoor, inverter driven condensing unit is placed outside your house on a HVAC pad or stand. That outdoor unit is connected to one or more indoor units by communication wires, cables, and refrigerant lines. Trane offers multiple types of indoor units that can be mounted in various places inside your home, including on the wall, ceiling, floor, and more. Indoor units can be controlled with a wall controller, or a remote controller.
Single-zone vs. multi-zone ductless systems
Ductless systems, oftentimes referred to as mini-split HVAC, can be single-zone or multi-zone HVAC systems, depending on the number of ports on the outdoor unit. Single-zone systems have only one port on the outdoor unit and one corresponding indoor unit, therefore it can control the temperature in just one room or area in your home. Multi-zone ductless systems have multiple ports on the outdoor unit, so there can be multiple corresponding indoor units. That means, multi-zone ductless systems can heat and cool multiple rooms or areas throughout the home, with the temperature in each room being controlled independently.
Where are ductless systems needed?
Ductless systems, or mini-splits, are a great heating and cooling option for homeowners who need to control the temperature in specific rooms or spaces of their home. Single-zone ductless systems work well in spaces like a garage, bonus room, home office, or sunroom, and can even be an entire temperature solution for tiny homes. Multi-zone ductless systems are even more versatile, as they can be applied in multiple rooms throughout your home, and give you the ability to individually control each room's temperature. Multi-zone ductless systems can work as whole home temperature solutions or compliment a ducted system, while single-zone ductless systems work best in conjunction with a central HVAC option. And, ductless systems come in many varieties — from mini split air conditioning to mini split heat pumps, a ductless system can help with multiple temperature needs.
Professional mini-split installation: What to expect
Whether you choose a single-zone or multi-zone ductless mini-split, you'll need to work with an HVAC professional to get your system safely installed. Here's what you can expect from the mini-split installation process:
1. Identify a location for the indoor unit(s).
You and your Trane technician will identify an indoor location to mount your indoor mini-split units, with at least 6 inches of open space on every side to allow for proper airflow. Your technician will ensure there are no obstructions that will compromise the place you choose to install the indoor unit.
2. Install the indoor unit(s).
Once you have identified the location, the HVAC technician will install the indoor unit. The process for indoor ductless system installation varies depending on the mounting location you select – whether that be floor mounted, wall mounted, cassette, or something else. Your HVAC technician will know the proper steps to take to install any kind of ductless system.
3. Identify a location for the outdoor condenser.
Your outdoor unit should be in a less trafficked area of your property that doesn't get dusty or hot. Ask your HVAC technician for help in identifying the right spot for your outdoor ductless unit.
4. Lay outdoor pad.
The outdoor unit should not be directly on the ground; it will need to sit on top of a pad, so it does not shift around on dirt or rocks. Your HVAC technician will position the pad on flat ground, high enough to keep water from rain or snow out of the unit.
5. Connect piping and cables to the outdoor unit.
Next your technician will connect the pipes and cables from the indoor unit to the outdoor unit. This can be more complicated with multi-zone systems because there is more than one indoor unit.
6. Complete the job.
From there, your expert will complete any remaining tasks necessary both in and outside your home, and test the unit, so you can enjoy your ductless system.

Get helpful HVAC tips in our newsletter
Sign up for our email newsletter to learn helpful HVAC tips and tricks before your purchase your system.
Contact a local dealer
Dealers can answer questions, help you find the right products for your home, and repair your system.
We're here to help
Connect with our Customer Care team about your products, warranties, and dealer concerns.
Available Monday – Friday from 7am to 5pm CST
A phone