Welcome to the September 2015 issue of Trane Tracks! Trane Tracks brings you the latest happenings in the industry from the Retail and Restaurant Experts at Trane!
Please consider Trane Tracks to be your newsletter. If there is a topic you would like to see covered, or a suggestion to help us improve the publication, email us at
TraneTracks@irco.com
.
Feel free to forward the Trane Tracks newsletter to others in your organization who might find the information useful.
---
A power and HVAC contingency plan provides savings, safety and peace of mind
Devastating hurricanes ... destructive tornadoes ... record high temperatures ... blizzard conditions ... flooding rivers. The daily weather headlines can be unsettling, particularly if your business is in the path of an extreme weather event. But it doesn't always take a natural disaster to leave your facility without power, your building damaged, and your business temporarily out of business; a power or HVAC system failure for any reason can have a serious impact on the comfort, health and safety of your customers and employees, as well as on your bottom line.
Learn more about the benefits of contingency planning!
---
8 steps to developing an effective contingency plan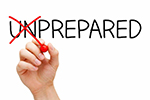 You know the devastating effects a natural disaster or equipment failure can have on your business. You understand the risk you take by not making preparations for an unexpected event. And, you're convinced of the benefits of contingency planning. But how do you put a plan together, what should you include and where do you start?
Read the 8 steps to developing a contingency plan.
---
Effective rental strategy is key element of risk management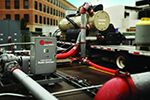 The disruption, cost and inconvenience caused by a natural disaster or failure of an HVAC system can have an enormous financial and operational impact on a business, especially if it means shutting down for an extended period of time. That's why many businesses include a rental strategy in their overall emergency preparedness plan.
Read more about the importance of a rental strategy.