Welcome to the April 2015 issue of Trane Tracks! Trane Tracks brings you the latest happenings in the industry from the Retail and Restaurant Experts at Trane!
Please consider Trane Tracks to be your newsletter. If there is a topic you would like to see covered, or a suggestion to help us improve the publication, email us at
TraneTracks@irco.com
.
Feel free to forward the Trane Tracks newsletter to others in your organization who might find the information useful.
---
Optimizing Air Balance Report Data
You've installed new HVAC equipment ... expanded your dining area ... and your new décor looks great. So why are you seeing drops of water on your ceiling, why aren't you getting the energy savings you thought you would, and why do the customers who dine at the table in the corner always complain that it's too cold? It could be that your air balance is out of balance.
An "air balance" is a process for measuring the performance of an HVAC system, and for providing the occupants with a comfortably conditioned space according to design specifications. In other words, it is an overall health check for your HVAC systems to make sure the equipment is mechanically sound, that there is positive building pressure and that the thermostat and air flow are adjusted properly.
Click here to learn more!
---
Top 5 Calls for HVAC Test & Balance
For more than 25 years, Melink Corporation has been providing independent testing and balancing, and installation verification services to help building owners reduce operating costs and improve comfort. Melink shares with us the Top 5 Reasons to call for an HVAC Test & Balance.
Click on the illustration below for more details.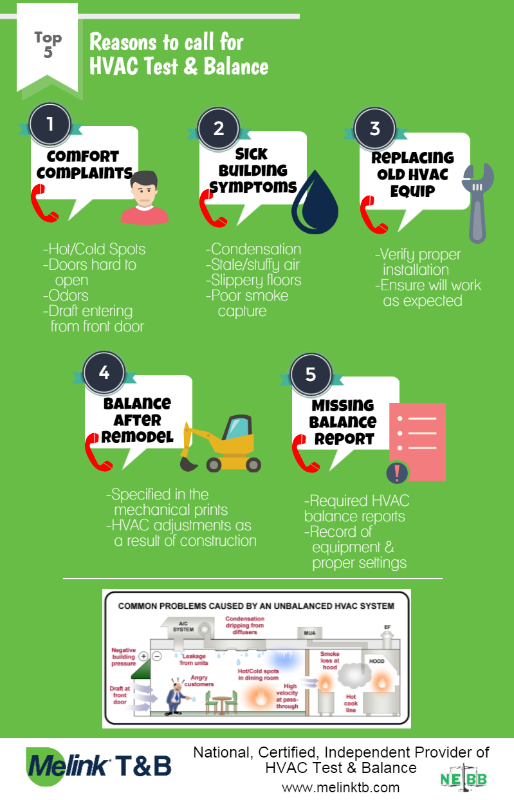 This infographic can be found on Melink's Twitter profile, @MelinkCorp1.
Reprinted here with permission of Melink Corporation.