SL Green Realty Corp. Awarded for Outstanding Energy Efficiency Commitments
12.05.2019
New York City, Dec. 5, 2019 – A notable New York City building owner is setting a high bar in energy efficiency and sustainability upgrades. Trane®, a global leader of indoor comfort solutions, and a brand of Ingersoll Rand, has recognized SL Green Realty Corp. with an Energy Efficiency Leader Award for demonstrating an outstanding commitment to best energy practices.
SL Green engaged Trane to install two energy efficient centrifugal chillers and 1.37MW of thermal energy storage at its iconic 11 Madison Avenue building in New York City. This Trane® Thermal Battery™ cooling system behaves like a battery, charging CALMAC® thermal batteries when excess or inexpensive energy is available, and discharging when demand or price is high. During peak cooling season, the thermal batteries produce more than 500,000 pounds of ice each night. The ice then cools off the building during the day, significantly decreasing SL Green's carbon footprint, energy consumption and operating costs.
Through the ice battery installation, SL Green has lowered tenant energy cost by 10 percent, reduced energy and operating costs by more than $730,000 annually and decreased carbon emissions by 1.4 million pounds – the equivalent of taking more than 130 cars off the road or planting 188 acres of trees.
"The Energy Efficiency Leader Awards recognize businesses and institutions that demonstrate impactful contributions towards environmental sustainability," said Donny Simmons, president, Trane Commercial HVAC, North America, Europe, Middle East and Africa. "SL Green is a perfect fit; the smart energy practices at 11 Madison Avenue prove business and environmental goals can work hand in hand for a more sustainable future."
The Thermal Battery system plays an integral role in helping SL Green reach its portfolio-wide sustainability goal of 30 percent reduction in greenhouse gas emissions by 2025, along with its commitments to New York State and New York City energy mandates of reducing greenhouse gas emissions 80 percent by 2050.
"SL Green capitalizes on every opportunity we have to reduce our carbon footprint because we have a responsibility to our tenants, our partners and New York City as a whole," said Edward V. Piccinich, Chief Operating Officer, SL Green Realty Corp. "This innovation is a worthwhile investment, both operationally and financially. We're honored to be recognized by Trane for leading the way."
SL Green's and Trane's commitments to sustainability extend beyond energy efficient practices; the companies share similar goals focused on enhancing quality of life and climate action:
SL Green is committed to transforming the built office environments; to mitigate climate change and provide a high quality of life for all New Yorkers. The company's vision has been manifested through the development of One Vanderbilt, a new, Class A office tower where all design, construction, and operational elements prioritize environmental stewardship and societal responsibility.
Trane is meeting the challenge of climate change through bold 2030 Sustainability Commitments. Its Gigaton Challenge is designed to reduce the customer carbon footprint from buildings, homes and transportation by one gigaton1 CO2e, while leading by example in its own operations – achieving carbon neutral and net positive water operations.
View the SL Green thermal storage system video case study.
# # #
About SL Green
SL Green Realty Corp., an S&P 500 company and New York City's largest commercial office landlord, is a fully integrated real estate investment trust, or REIT, that is focused primarily on acquiring, managing and maximizing value of Manhattan commercial properties. As of September 30, 2019, SL Green held interests in 93 Manhattan buildings totaling 45.0 million square feet. This included ownership interests in 27.2 million square feet of Manhattan buildings and 17.8 million square feet securing debt and preferred equity investments.
About Trane
Trane is a brand of Ingersoll Rand (NYSE:IR), which advances the quality of life by creating comfortable, sustainable and efficient environments. Trane solutions provide comfortable indoor environments through a broad portfolio of reliable, energy efficient heating, ventilating and air conditioning systems, parts and supply. For more information, visit www.trane.com.
About CALMAC
CALMAC is a portfolio of Trane, which promotes a low carbon future, by enabling the design and construction of a smarter, more reliable electric grid mostly composed of renewable resources and energy storage. CALMAC energy storage systems help in the mass scale implementation of renewable energy while enabling building owners flexible load energy management for comfortable, cost-effective and sustainable environments. For more information, visit www.calmac.com.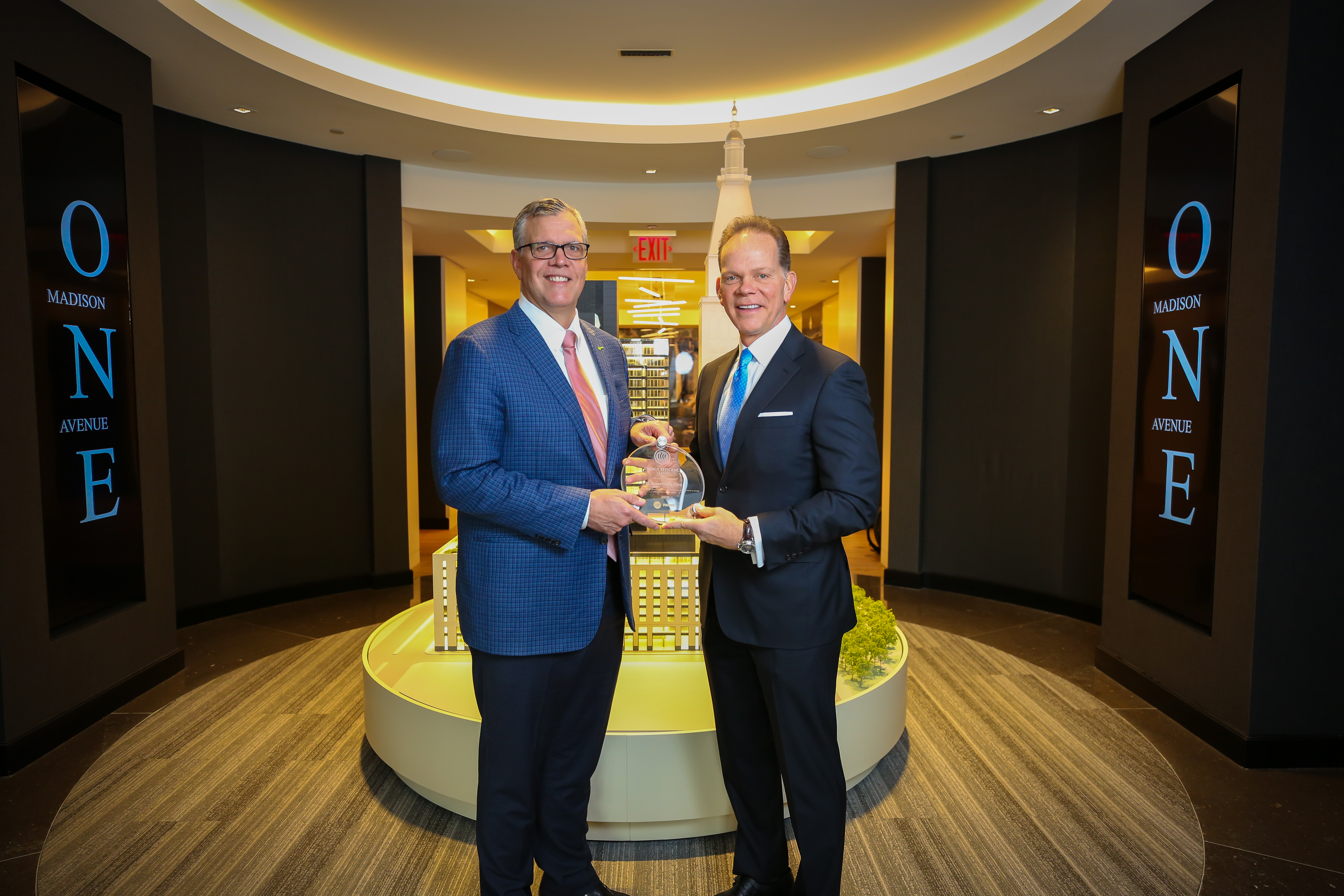 Donny Simmons, president, Trane Commercial HVAC North America, Europe, Middle East and Africa, left, presents Edward V. Piccinich, Chief Operating Officer, SL Green Realty Corp., right, Trane's Energy Efficiency Leader Award.