Experts sound in on school acoustics
Sound management is particularly important in schools. The ability to hear teaching instruction is, of course, vital to learning. Yet as many as a third of all students miss up to 33 percent of the oral communication in the classroom.1
Children under age 16 lack the knowledge and maturity to correctly infer meaning from missed and misheard words.2  Poor school acoustics create extra challenges for students who are coping with learning disabilities, hindered by impaired hearing or struggling to learn in a non-native language.
While the maximum permissible background sound level for "typical" classrooms is 35 dBA (according to both the American National Standards Institute (ANSI) and the Acoustical Society of America (ASA) ), there is considerable evidence that background noise varies widely from classroom to classroom and from school to school—regardless of building age or location.
Trane hears our schools
The impact that acoustics has on learning is why Trane makes sound performance a key consideration in everything we build. Not only do we offer the quietest equipment, but our  Trane Acoustics Program (TAP™) also simplifies the acoustics design process for engineers by comparing the sound levels of various HVAC system and construction options.
In recent testing, Trane has been able to prove that the ANSI/ASA S12.60 recommended sound levels can be met in new and existing school buildings with minimal or no added cost using off-the-shelf HVAC equipment and industry-accepted design and construction practices.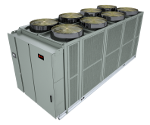 Trane is at the forefront of bringing optimum acoustic performance to schools with the Stealth Air Cooled Chiller — delivering the highest combination of part-load and full-load efficiencies and the lowest published sound levels.  
1. M. Nixon. 2002. "Acoustical Standards Begin to Reverberate: Controlling Noise within School Facilities," School Construction News Online. accessed January 2003.
2. P. Nelson. 2003. "Sound in the Classroom: Why Children Need Quiet," ASHRAE Journal 45 (2): 24. accessed February 2003.