Trane Commercial 2019 Media Kit: AHR Expo Booth B2661
Atlanta, GA Jan. 11, 2019 — Trane®, a leading global provider of indoor comfort solutions and services and a brand of Ingersoll Rand, will showcase at the 2019 AHR Expo, Jan. 14 – Jan. 16 in Atlanta several leading technologies that work together to significantly reduce buildings' energy use, increase performance and improve energy management. At Trane booth B2661, people will learn about new products, solutions, technologies, ideas, and industry trends. Trane will demonstrate systems, services, digital capabilities and, most importantly, the people who can connect these components for a seamless customer experience and ensure the building remains at peak performance.
This year's theme for the Trane booth is "Knowledge Becomes Power".
BOOTH HIGHLIGHTS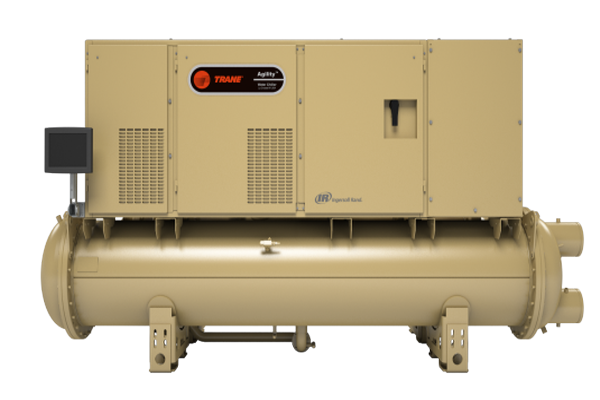 Agility™ Chiller
Right click image to save.
Compact in size, Trane® Agility™ magnetic-bearing chillers provide a reliable and efficient choice for maximum building performance. 
•           Compact design: The modular bolt-together design cuts time to dissemble by up to 60 percent.
•           Energy-efficient: Optimized for both full- and part-load operation, the chillers can save customers up to 9 percent in utility expenses.
•           Sustainable: When the chillers are selected with next‐generation, low global warming potential (GWP) refrigerant R-513A, customers can receive up to 55 percent lower GWP than with R-134a.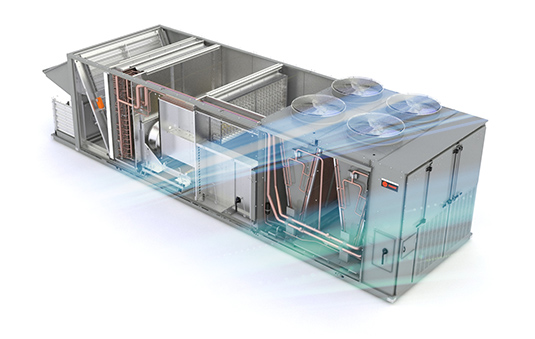 IntelliPak® with Symbio™
Right click image to save.
IntelliPak® — a next-generation unitary rooftop system — launched in 2018 — is ideal for customers who want superior energy efficiency, reliable quality, controls that support connected buildings and lower total cost of ownership.
•           Field programmable: Symbio 800 is the industry's first application-specific and field-programmable controller. Customers now have more flexibility and customizable sequences of operations to meet applications.
•           Remote monitoring : Customers can remotely monitor data — such as kW consumption and refrigerant pressure — to ensure the unit is operating to design specifications.
•           Adaptive controls: The Symbio 800 controller can help keep IntelliPak operating smoothly by determining where in the compressor operating map it's performing and adjust settings as needed.
•           Integration : Automation system integration now meets the industry standard to enable a more common process and is more flexible with new communication protocol options.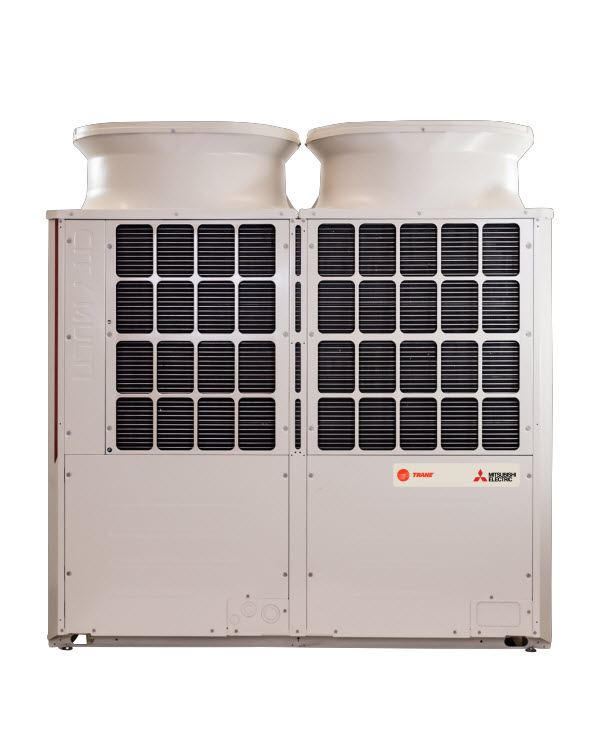 Trane®/Mitsubishi Electric Ductless Joint Venture
Right click image to save.
In partnership with Mitsubishi Electric, Trane now offers variable refrigerant flow (VRF) heating and air conditioning systems in the United States and select Latin America countries. These highly efficient and flexible systems cool or heat spaces with minimal to no ductwork.
•           Retrofit compatible: Trane/Mitsubishi Electric CITY MULTI® VRF outdoor units — in conjunction with Linear Expansion Valve (LEV) kits — creates a hybrid system that uses existing building air handling equipment to reduce costs and provide VRF technology benefits.
•           Load innovations: Trane/Mitsubishi Electric CITY MULTI Heat Recovery VRF systems can simultaneously heat and cool within one system by managing refrigerant flow.
•           Comfortable environment: Trane/Mitsubishi Electric CITY MULTI water-source VRF systems were designed with centrally located condensers to reduce noise and achieve precise comfort conditions while connected to a building's existing water loop.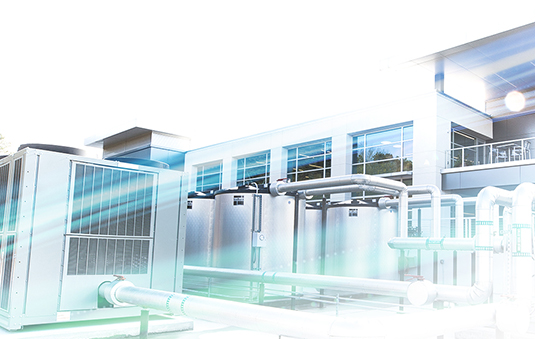 Thermal Energy Storage
Right click image to save.
The electric grid is changing, as concerns about climate change and renewable resources increase. Thermal energy storage is becoming more important to building owners and utilities for their ability to enable growth of renewable energy resources. By acquiring CALMAC®, Trane can now offer building owners superior full-service energy management solutions that include the Thermal Battery™ system--- thermal energy storage for a renewable future.
•           Supports renewable energy: A Thermal Battery system can increase renewable energy use up to 50% making renewable resources more effective and affordable.  That helps with zero net energy design.
•           Supports high performance: To have lowest cost of operation, a building must be agile.  A Thermal Battery system can store clean inexpensive energy, when available, to be used during periods of high demand to help lower the cost of operation.
•           Supports grid resiliency:  A Thermal Battery system helps overcome the intermittency of renewable energy.  It can store excess energy to be used during times when the sun does not shine or wind does not blow. Additionally, a recent study suggests that these systems do more to help the grid during heat storms than previously thought1 . This is important for both grid resource adequacy planning and providing proper financial compensation, which in turn means more incentives for owners.
1. Western Cooling Efficiency Center at University of California Davis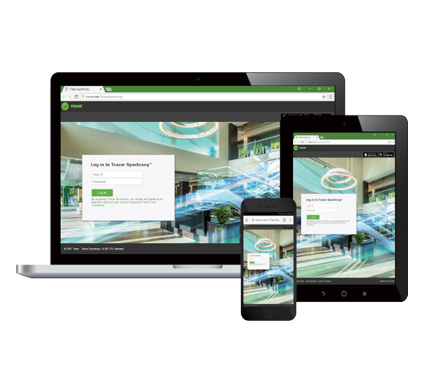 Building & Energy Management
Right click image to save.
Leveraging the Tracer® SC+ system controller, Trane® offers controls spanning from light commercial building applications to enterprise controls and energy management. Role-based user interfaces customize experiences for building occupants to make their jobs more efficient and productive, all while optimizing the energy use and comfort in the buildings they work in each day.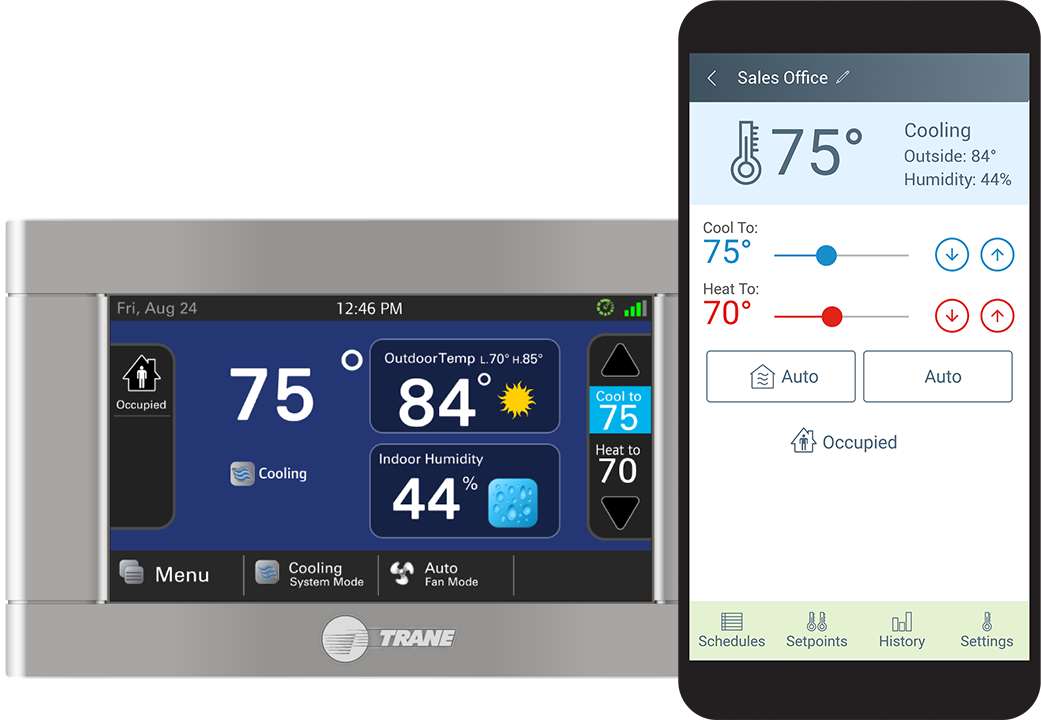 Trane® Pivot™: Smart thermostat system offers a Wi-Fi® thermostat, mobile app and contractor portal where customers can remotely troubleshoot systems. It is specifically designed for commercial applications and works with Trane equipment as well as equipment from other manufacturers. The scheduling process is intuitive and the thermostat provides commercial features you'd expect like economizer enable, optimal start/stop and both Wi-Fi and Ethernet connectivity options. With the mobile app you can make schedule and set point changes to your entire system in seconds.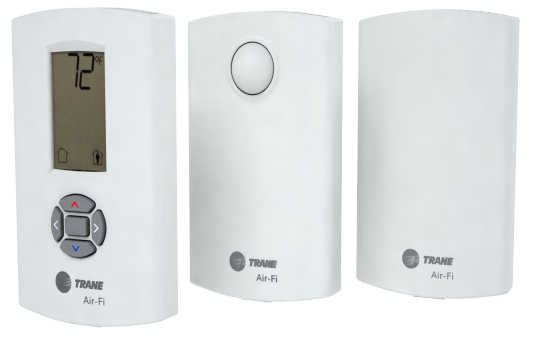 Air-Fi® Wireless: Trane Air-Fi wireless communication is a reliable, flexible solution that frees you from the hassles associated with wired components for your building controls system. With Air-Fi wireless, you get easy problem solving, efficient performance and cost savings over the life of the equipment.  Building on our successful portfolio of wireless sensors, we are introducing refrigerator and freezer temperature monitoring to help ensure food and pharmaceutical product safety.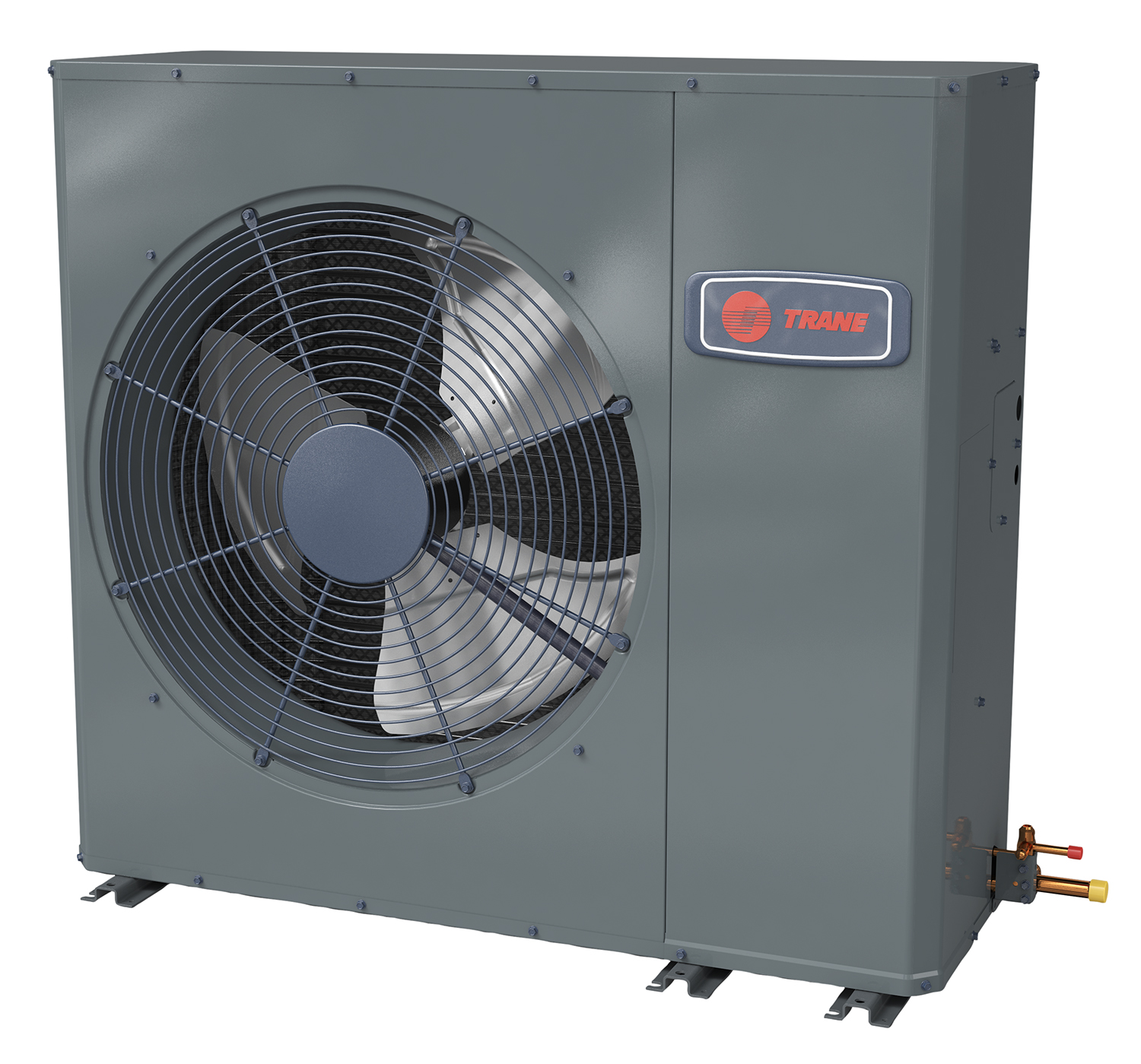 Residential XV19 Heat Pump™
Right click image to save.
XV19 Heat Pump™ — Trane Residential's quietest and most efficient heat pump yet. The XV19 Variable Speed operates with sound levels of 43 to 57 dBA and is designed to fit space-constrained areas and provide homes with industry-leading performance and reliability.
•           Unique design: Designed with limited space in mind, the XV19 will meet the needs of difficult-to-install or tight space required homes such as zero lot line, condos, or under decks.
•           Efficient SEER: Ratings up to 19.5 and HSPF up to 12, the XV19 is an excellent choice for home comfort and energy-efficiency.
•           Quiet: The quietest and most efficient heat pump in our offering with sounds levels of 43 to 57dBA, this unit will meet the low sound requirements some cities have in place for HVAC systems and is ideal for outdoor living spaces, bedrooms, condos, hotels, and restaurants.
PRODUCT VIDEOS
If you wish to interview any of our spokespeople, please reach out to Marina Ciskoski:
612-756-2651
GEORGIA WORLD CONGRESS CENTER PROJECT CASE STUDY
"With aging HVAC equipment and lighting fixtures requiring replacement, Georgia World Congress Center Authority (GWCCA) needed upgrades to improve reliability, safety and aesthetics, as well as increase efficiency. With Trane Commercial's help, GWCCA realized energy and cost savings, including reducing energy use by more than 39 percent and saved more than $2.5 million in energy costs per  year."  
SOCIAL MEDIA
Need a few social media ideas? Try one of these: 
IntelliPak
Twitter
@TraneCommercial is showcasing IntelliPak® with Symbio™ 800 controller at #AHRexpo Booth B2661. It's 17% lighter than competitive rooftop systems. #KnowledgeBecomesPower
LinkedIn
@Trane added the Symbio™ 800 controller to the new IntelliPak® to modernize controls settings and operating under optimal conditions. See it at #AHRexpo Booth B2661. #KnowledgeBecomesPower
Ductless
Twitter
#VRF can simultaneously cool or heat different building zones. @TraneCommercial is featuring its latest VRF technology at #AHRexpo Booth B2661. #KnowledgeBecomesPower
LinkedIn
At AHR 2019, @Trane is showcasing its new ductless offering — variable refrigerant flow — which resulted from its Mitsubishi Electric partnership. #AHRexpo #KnowledgeBecomesPower
Agility
Twitter
@TraneCommercial is featuring its latest water-cooled centrifugal chiller — Agility™ — at #AHRexpo. It can fit through standard double doors without disassembly! #KnowledgeBecomesPower
LinkedIn
@Trane designed Agility™ to retrofit chillers installed in hard-to-reach spaces. The compact size helps it fit through standard double doors — see it at #AHRexpo Booth B2661. #KnowledgeBecomesPower
Thermal Battery
Twitter
To help solve renewable intermittency, @TraneCommercial is showcasing its Thermal Battery energy storage systems at #AHRexpo Booth B2661. #KnowledgeBecomesPower
LinkedIn
With the increased use of renewable energy, the @Trane Thermal Battery energy storage systems can help meet renewable energy standards. Learn more at #AHRexpo Booth B2661. #KnowledgeBecomesPower
TRANE SPOKESPEOPLE
TRANE COMMUNICATIONS
Marina Ciskoski
Communications Generalist (Trane Commercial)
612-756-2651
Shelby Hansen
Communications Generalist (Trane Commercial)
925-336-0496
Jennifer Regina
Communications Leader (HVAC and Latin America Leader)
630-390-8011