Trane Flex2O Chillers and Heat Pumps with Increased Connectivity, Flexible Control and Bigger Capacities
14.04.2021
The Flex2O water-cooled chillers and water source heat pumps are now available in up to 700kW capacity from a single unit, and with the new Trane Symbio™ Controller for increased flexibility, serviceability and connectivity.
Brussels, April  14, 2021 – Trane®, a leading global provider of indoor comfort solutions and services and a brand of Trane Technologies, announced today the latest upgrades in the Flex2O range of scroll water-cooled chillers and water source heat pumps. The Flex2O units, designed to provide all year round comfort and process cooling and/or heating efficiency within a small footprint, are now available in up to 700kW of capacity from a single unit and feature the new Trane Symbio™ 800 controller for building automation and connectivity.
The compact, modular design of the Flex2O offers scalability and flexibility of configuration allowing to combine up to six units to meet the building's capacity and performance requirements. With the increased capacity by the single Flex2O unit, building owners and facility managers now can easier adapt their system's capacity to the changing heating and cooling demand throughout the lifespan of the building.
The Symbio™ 800 connected controller brings more value giving business owners and servicers the remote performance monitoring, tracking and controls to manage cooling and heating processes remotely when they aren't on location.  With Symbio™ 800, the Flex2O units now come standard with outputs for easy connectivity to building automation systems. This allows smaller buildings to enjoy the benefits of connectivity and leverage expanded diagnostics capabilities, including remote monitoring and service interface accessible via standard web browsers.
Louis Rompré, portfolio manager at Trane Europe: Improving efficiency, performance, sustainability, serviceability, connectivity - at Trane we're continuously looking at ways to enhance our systems so our customers can easier fulfil their comfort and process cooling and heating needs. The upgrade of our Flex2O portfolio is just another step on our journey towards continuous innovation. Within our robust screw, scroll and maglev portfolios, we give our customers the flexibility to choose the right technology and solution for any of their applications – and the opportunity make their buildings perform better and be more climate friendly.
The Trane Flex20 water to water heat pump units meet the highest Ecodesign efficiency class A+++ and address the environmental and sustainability efforts in urban areas offering an efficient alternative for traditional gas or oil fuelled boilers and compatibility with geothermal applications. Combining performance with small footprint, the compact Flex2O are particularly suitable for new and replacement projects in all commercial and industrial applications in city centres and buildings with limited space and access.
Key features of the Trane Flex2O range include:
Large operating map to address specific design criteria of applications like in hospitals, office buildings, larger apartment buildings, warehouses and industrial applications:

Chilled water temperatures between -7°C and +25°C
Hot water temperatures up to +60°C

Trane Symbio™ 800 controller with:

Open standard protocol communication and interaction with building management controllers with generic Bacnet IP and Modbus TCP-IP protocol
Better serviceability thanks to built-in service interfaces accessible via standard web browsers
Connectivity and remote access to equipment, intelligent services analytics, diagnostics and reports, and upgradable software for future enhancements.

Optimized for connection to HVAC systems based on air handling units, under floor heating, radiators or chilled beams.
Compact and smart design allowing for moving the unit through doors and into service elevators, and positioning it with a long side adjacent to the wall, while ensuring full access to major components.
# # #
About Trane
Trane – by Trane Technologies (NYSE: TT), a global climate innovator – creates comfortable, energy efficient indoor environments for commercial and residential applications. For more information, please visit www.trane.eu or www.tranetechnologies.com.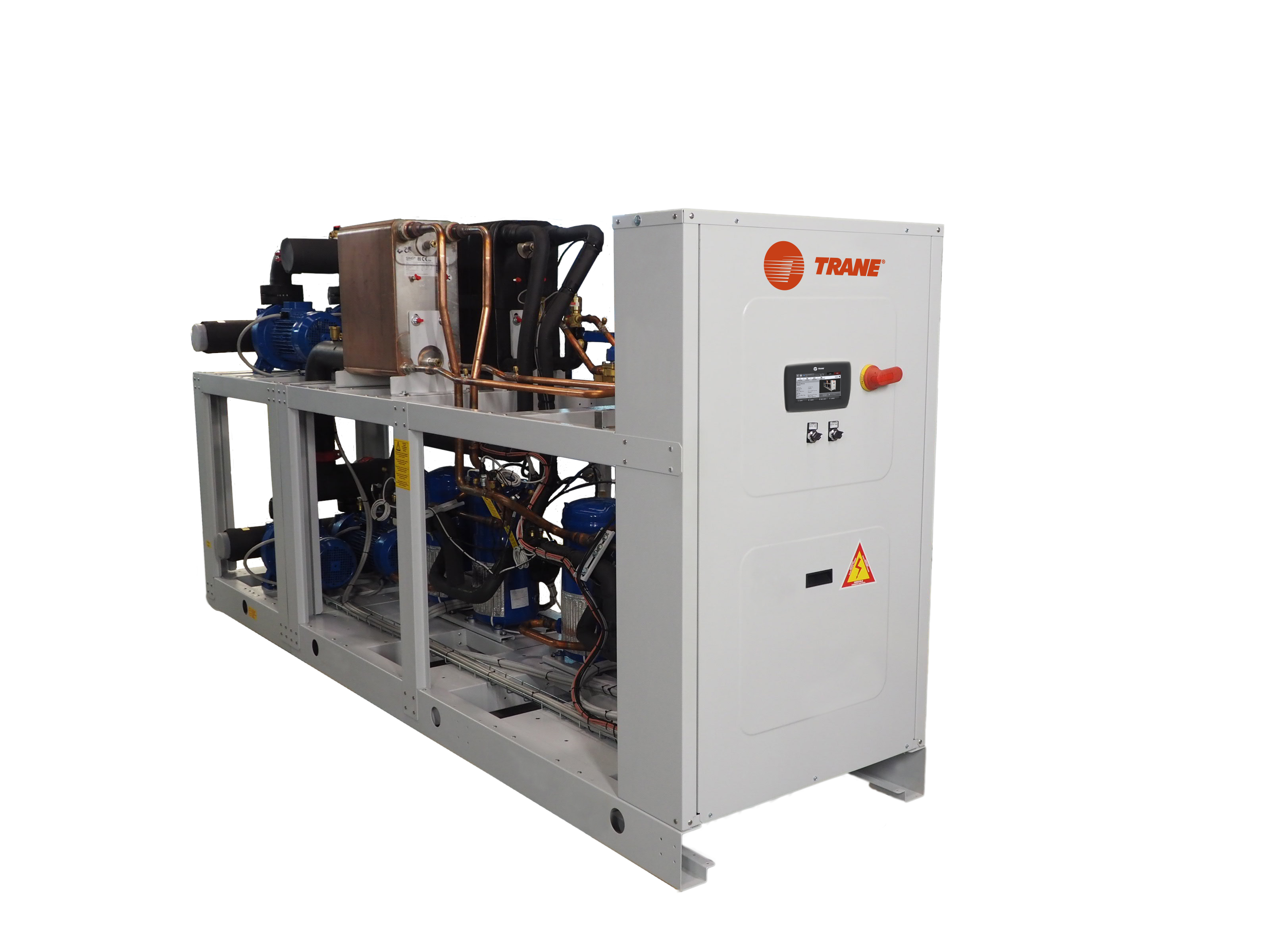 Contact Information
Geraldine Velner
Communications Leader, Trane Technologies EMEA
+32493282676