Trane is a proud sponsor of NC3, a network of education providers and corporations that supports, advances and validates new and emerging technology skills, providing NC3 members with resources to prepare the next generation of HVAC technicians.
High Performance in Career and Technical Education
Supporting Career and Technical Education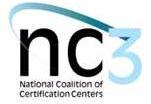 Trane is a proud sponsor of NC3, a network of education providers and corporations that supports, advances and validates new and emerging technology skills, providing NC3 members with resources to prepare the next generation of HVAC technicians including:
Certification training that will be implemented at NC3 member colleges
Counsel to advise NC3 members on improving their learning environments
Programs to prepare their students for a career in the HVAC industry
If you are interested in creating an HVAC training program at your institution please contact NC3.
Enhancing educational experiences: BTU Crew™ curriculum for higher education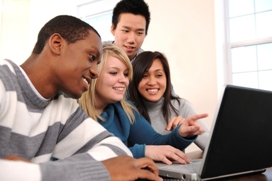 Conserving energy is a key issue across many professions today. The higher education environment creates the perfect opportunity to evaluate how energy will play a role in one's future career as well as the role it plays in our lives today. The Trane BTU Crew curriculum is designed to engage students from all career paths in using their campus as a living energy lab. Through the course of the curriculum, students will:
Perform a building energy audit, analyze the results, and present findings and
recommendations to improve energy efficiency


Investigate their career interests and discover how they tie to energy


Lead campaigns to conserve energy in campus buildings


Strengthen presentation and interviewing skills
For more information please contact your local account manager.
Create Better Learning Environments
Effective Classrooms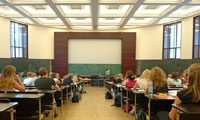 Trane specializes in the intangible, invisible factors that are critical to the mission of higher education: comfort and indoor air quality (IAQ). Trane technologies establish and maintain proper IAQ. Numerous studies, including those conducted by the IAQ Scientific Findings Resource Bank (SFRB), a cooperative venture between EPA and the Lawrence Berkeley National Laboratory, have shown that ideal IAQ improves the performance of mental tasks, including concentration and recall.
Trane solutions enable you to properly (and precisely) manage air filtration, air conditioning and heating, and humidity levels to suit specific applications throughout your facilities—in new and old buildings. For example, the Trane Performance Climate Changer™ Air Handler—a highly flexible rooftop unit offering the affordability of a packaged air handling system with many features of a custom line—contributes to clean, comfortable learning environments.
Manage multiple school locations
For organizations operating multiple locations, Trane provides support that enhances cost efficiencies, and simplifies facilities maintenance and management. Facility managers can gain an online, enterprise-wide view of building systems from any PC on the network using Tracer ES™, a multiple-building control system.
A consistent approach to maintaining indoor climate control systems across all locations is essential to maintaining building and system performance with optimum energy efficiency. Trane Building Services provides proactive service and maintenance, delivered by local Trane service technicians.
Upgrade Campus Facilities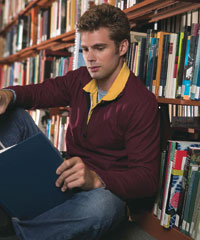 Today's full-time and occasional community college and technical school students expect facilities that rival traditional four-year colleges and universities. Building new or renovating existing facilities is one of the best ways to attract students to your school and to build strong relationships with residents in the surrounding community. While you need to take building aesthetics into consideration, IAQ plays an important role in long-term building comfort and student satisfaction.
Trane offers innovative and energy-efficient solutions for improving IAQ in classrooms, libraries, daycare centers and sports facilities that receive heavy student and public use. Equipping air handlers with a Trane Catalytic Air Cleaning System (TCACS) is one way to effectively reduce biological organisms such as spores, bacteria and even the tiniest viruses.

NC3
Learn about theTrane and NC3 collaboration on career and technical education.