High performance schools strive to maintain background sound levels that are ideal for learning. Much of the education that takes place in K-12 education hinges on oral communication, after all.
Experts sound in on school acoustics
Experts believe that as many as one-third of all students miss up to 33 percent of the oral communication that occurs in the classroom.1 Children under age 16 lack the knowledge and maturity to correctly infer meaning from missed and misheard words.2
Poor school acoustics create extra challenges for students who are coping with learning disabilities, hindered by impaired hearing or struggling to learn in a non-native language.3
The American National Standards Institute (ANSI) through the Acoustical Society of America (ASA) developed and published the ANSI/ASA S12.60 standard for classrooms and other learning spaces to address acoustical performance criteria and design requirements for schools. Trane proudly supports this organization and offers a free download of the ANSI/ASA standard to anyone who is interested in creating higher-performing classrooms.
Trane solutions for better classroom acoustics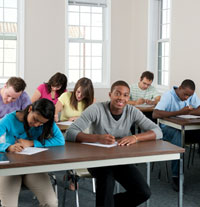 When selecting a new system or renovating an existing classroom, the Trane Acoustical Program (TAP™) acoustical analysis software accurately predicts and compares the sound levels of various HVAC system and construction options.
In recent testing, Trane has been able to prove that the ANSI/ASA S12.60 recommended sound levels can be met in new and existing schools buildings with minimal or no added cost using off-the-shelf HVAC equipment and industry-accepted design and construction practices.
For more information, read the following articles:
Achieving Acoustical Standards in the Classroom
A New Standard for Acoustics in the Classroom
Trane Acoustics
At Trane, a comfortable, efficient building is our ultimate goal. An important element of comfort is acoustics. In fact, building occupants consistently cite noise, uncomfortable temperature, and poor indoor air quality as reasons for relocating from one rented space to another. Meeting the occupants' acoustical needs is a critical yet often overlooked challenge. Trane can help. Learn More
1. M. Nixon. 2002. "Acoustical Standards Begin to Reverberate: Controlling Noise within School Facilities," School Construction News Online. accessed January 2003.
2. P. Nelson. 2003. "Sound in the Classroom: Why Children Need Quiet," ASHRAE Journal 45 (2): 24.
accessed February 2003.